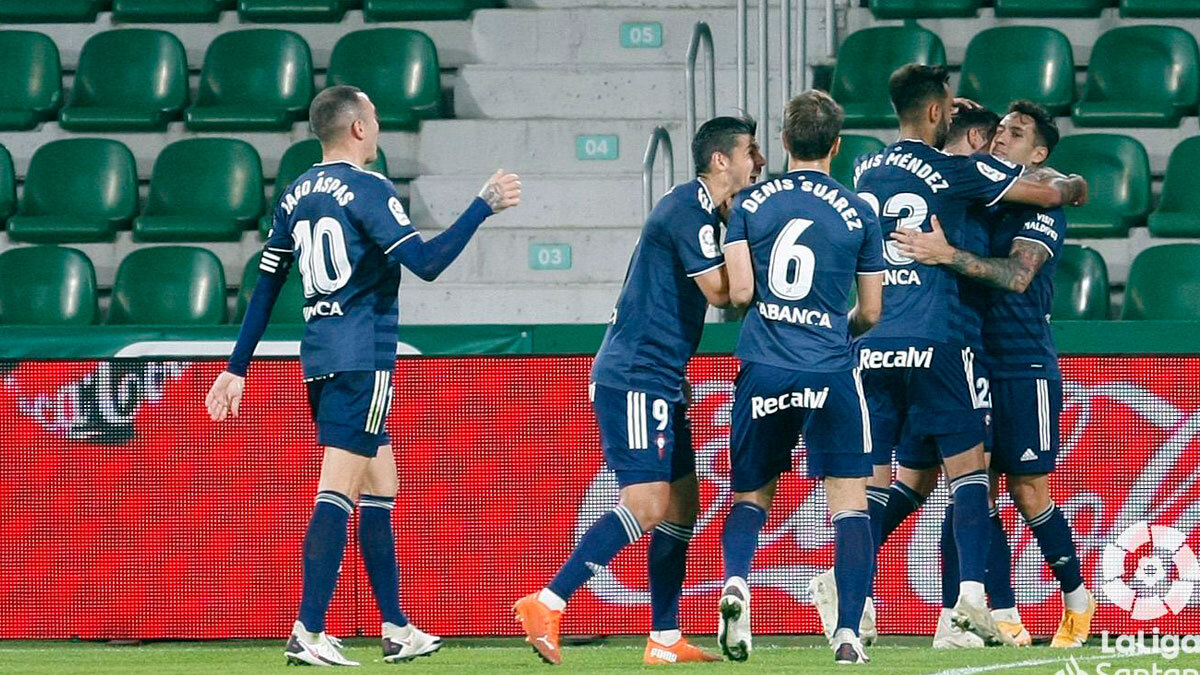 RC Celta tied in Elche (1-1) in a match in which it was clearly dominant and where it did not have enough luck with the refereeing.
The first half could not have started in a worse way. In the initial play a cross by the local team ended up in penalty after hitting the ball on the hands of a sky-blue defender. The referee went to the VAR to check the action but did not notice a dangerous play immediately before by the Elche team's forward. Fidel scored the shot from the 11 meters.
In the remaining time of the first half, RC Celta enjoyed two clear opportunities at the feet of Brais Méndez, but the local goalkeeper stopped them both. The shot he couldn't manage was with the one by Santi Mina at the edge of the half-time which put the equalizer on the scoreboard.
RC Celta came out and dominated the start of the second half, where they had a great chance through Iago Aspas and other approaches at the feet of Nolito and Santi Mina. With the passing of the minutes Oscar Garcia's team accumulated more chances. In the final stretch Brais Mendez received an elbow in the face which caused cut and ended up with a yellow for Iago Aspas for suggesting to the referee that he be fair.
GAME SHEET
1 – Elche: Badia; Josan, Barragán, Verdú, Diego (Josema, min 59), Fidel (Miño, min 39); Mfulu (Guti, min 59), Marcone; Tete Morente, Pere Milla (Rigoni, min 59) (Nino, min 75); Boyé
1 – RC Celta: Rubén, Hugo Mallo, Aidoo, Murillo, Olaza, Tapia (Beltrán, min 65), Denis Suárez, Brais Méndez (Gabri, min 84), Santi Mina (Miguel, min 76), Nolito, Aspas
Goals: 1-0 Fidel, min 3; 1-1 Mina, min 41
Referee: From Burgos (Basque). He admonished Diego, Boyé (Elche) and Denis, Olaza, Miguel (RC Celta)
Field: Martinez Valero