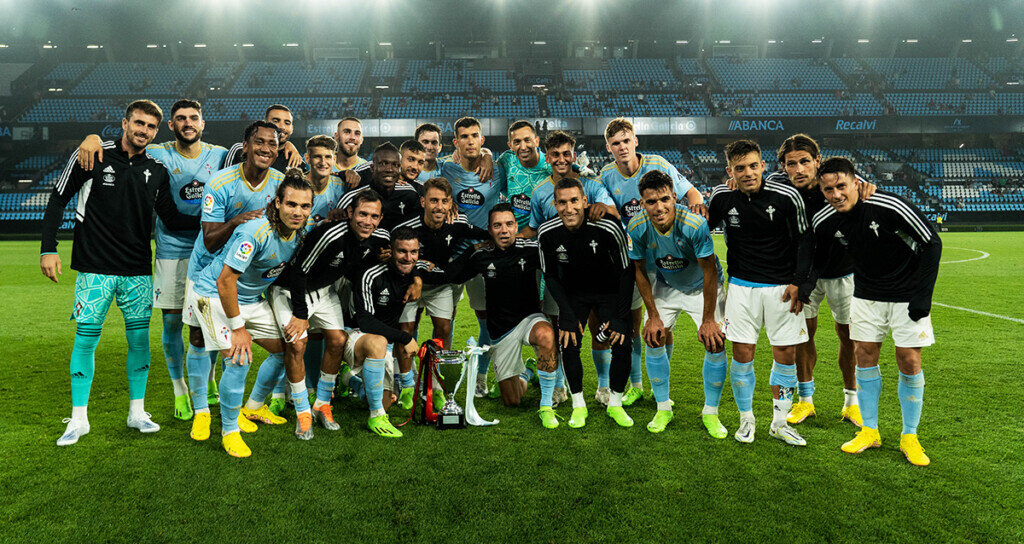 Sky blue exhibition in the last preseason match. RC Celta beat Al-Shabab by six goals to nil in the XXVI Quinocho Memorial Trophy with five goals from Iago Aspas and one, fantastic, from debutant Gonçalo Paciencia in a match in which Chacho Coudet's team offered numerous virtues and a considerable progress in their way, still unfinished, towards the ideal state of adjustment and preparation.
The Celticos started off slowly, perhaps dazzled by the quality of Éver Banega, who was sent off to applause by the sky blue fans. The lethargy disappeared with a great goal by Paciencia, which unleashed the sky blue storm with Iago Aspas totally unleashed. The academy player scored the five goals that followed the Portuguese striker's exquisite strike, whose commitment, involvement and quality were loudly acknowledged by the crowd.
The superiority of RC Celta against an orderly and willing rival was absolute, although the Vigo players still have some work to do in the synchronization of pressure and defensive adjustments, which is logical when a good number of players who until recently were not part of Coudet's demands and the physical preparation is still not optimal.
In addition to the newcomer Paciencia, Marchesín made his debut, a solvent when it was his turn to intervene, Óscar Mingueza, with an excellent performance, and the academy's Fran Löpez, overflowing with happiness and author of two assists to his idol Iago Aspas.