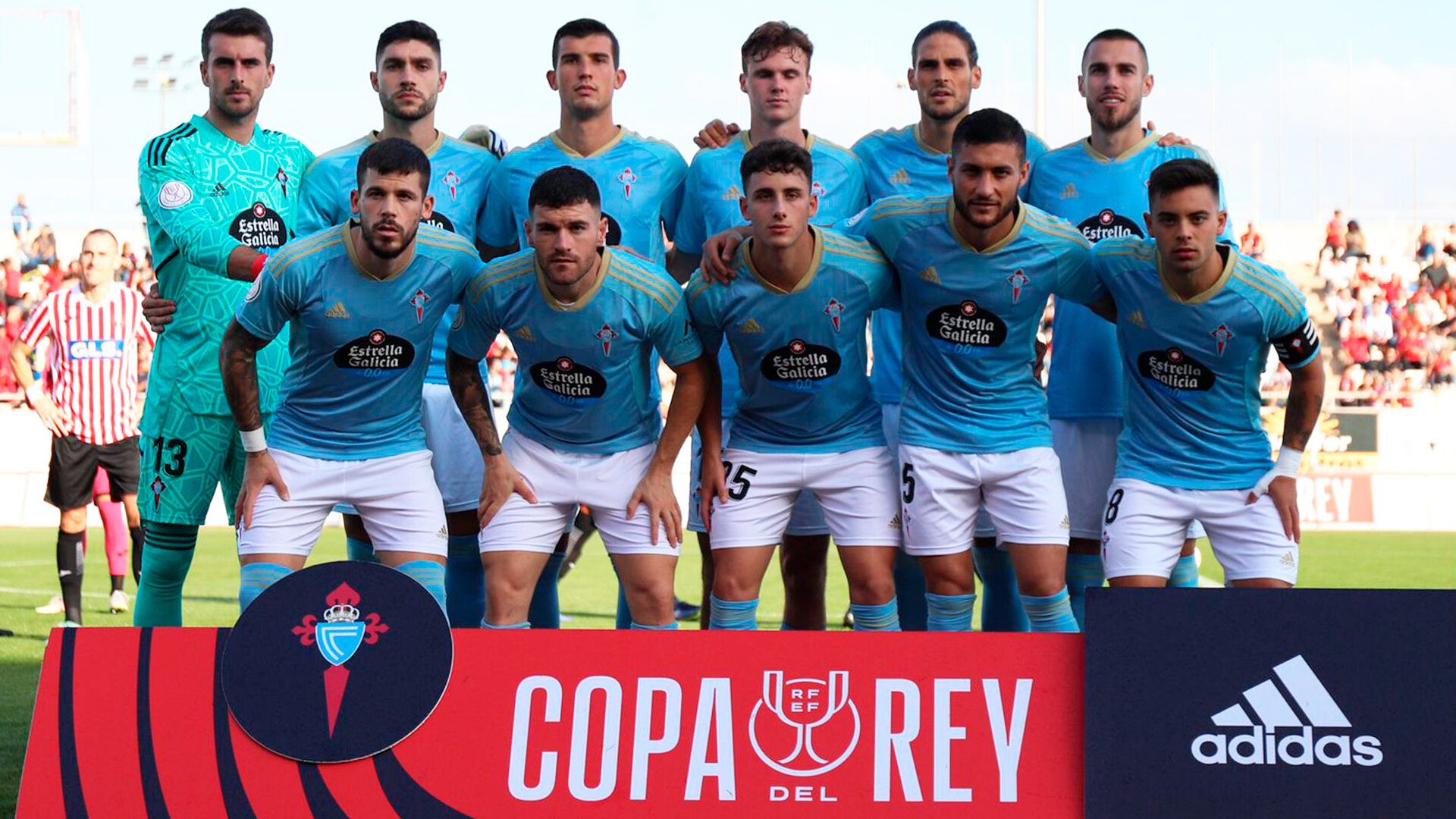 Victory of the RC Celta in the Artés Carrasco Stadium in Lorca in the first round match of the Copa de S.M. El Rey against the Carthaginian CD El Algar that currently plays in Preferente Murcia. The sky blues take the qualification to the next round thanks to a magnificent second half.
CD Algar was fifteen minutes ahead on the scoreboard thanks to a goal by Cristian Muñoz from a corner kick. The departure of Franco Cervi revolutionized the sky blue game and scored a minute after coming on.
RC Celta entered the second half with a better attack, which resulted in two very good goals by Carles Pérez and Óscar Rodríguez in the first fifteen minutes of the game.
Later, Strand Larsen made his debut in the sky blue jersey to extend the lead 62 minutes into the match. RC Celta rounded off the result with two more goals, one by Javi Galán after a penalty taken by Franco Cervi and the sixth by Kevin Vázquez.
The trip to Murcian lands is settled with the pass to the next round of the Cup and with the scoring debut of our players Carles Perez, Strand Larsen, Javi Galan and Kevin.
FACT SHEET.
1 – CD ALGAR: Juanma Conesa; Íñigo, Cristian Muñoz, Valero (Jawad, min 64) Rachiq (M. Nicolás, min. 56), Acosta; Nono (Javi Roca, min. 71), Moghli, Ventura; Ketchup (Pagán, min. 71) , Nico Carrasco (Gómez, min. 64).
6 – RC CELTA: Iván Villar; Mingueza (Kevin, min. 70), Unai, Carlos Domínguez, Javi Galán; Pablo Durán (Strand Larsen, min. 34), Fran Beltrán, Óscar, Swedberg (Cervi, min. 34); Carles Pérez (Gabri Veiga, min. 70), Paciência (Miguel, min. 70).
Goals: Cristian Muñoz (1-0, min. 15), Franco Cervi (1-1, min. 35), Carles Pérez (1-2, min. 55), Óscar Rodríguez (1-3, min. 58), Strand Larsen (1-4, min. 62), Javi Galán (1-5, min. 84), Kevin Vázquez (1-6, min. 90).
Referee: Dámaso Arcediano Monescillo, Extremadura school. Yellow cards to Rachiq (min. 10) Cristian Muñoz (min. 22) and Gómez (min. 66) for CD Algar. For RC Celta, Tapia (min. 46) was cautioned.