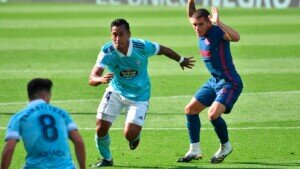 RC Celta lost this Saturday against Atlético de Madrid (0-2) in a match in which the red and white players scored in the only arrivals they had. The sky-blue players created many chances that they could not convert.
The match started with an early goal by Luis Suarez. Oscar García's players overcame the initial blow and signed a great first half in which only the goal was missing. Carreira, Mina and Fontán met the post or Oblak in different occasions.
The second half of the match had numerous stops due to the fouls of the visiting team. However, RC Celta continued to create clear chances and only bad luck prevented the draw. Already in injury time, Atletico put the final 0-2.
GAME SHEET
0 – Celtic RC: Iván Villar, Carreira (Veiga, min 84), Araujo, Murillo, Fontán, Olaza (Miguel, min 86), Tapia, Beltrán (Denis, min 63), Baeza, Mina(Emre, min 63), Aspas
2 – Athletic: Oblak, Trippier, Savic, Hermoso, Sánchez (Felipe, min 50), Koke, Torreira, Correa (Herrera, min 77), Lemar (Carrasco, min 65), Suárez (Llorente, min 65), Costa (Félix, min 50)
Goals: 0-1 Suárez, min 6; 0-2 Carrasco, min 90;
Referee: Martínez Munuera (Benidorm). He warned Nolito, Aspas and Beltrán (RC Celta) and Hermoso, Costa, Felipe, Herrera (Atlético) with yellow cards.
Field: Abanca Balaídos