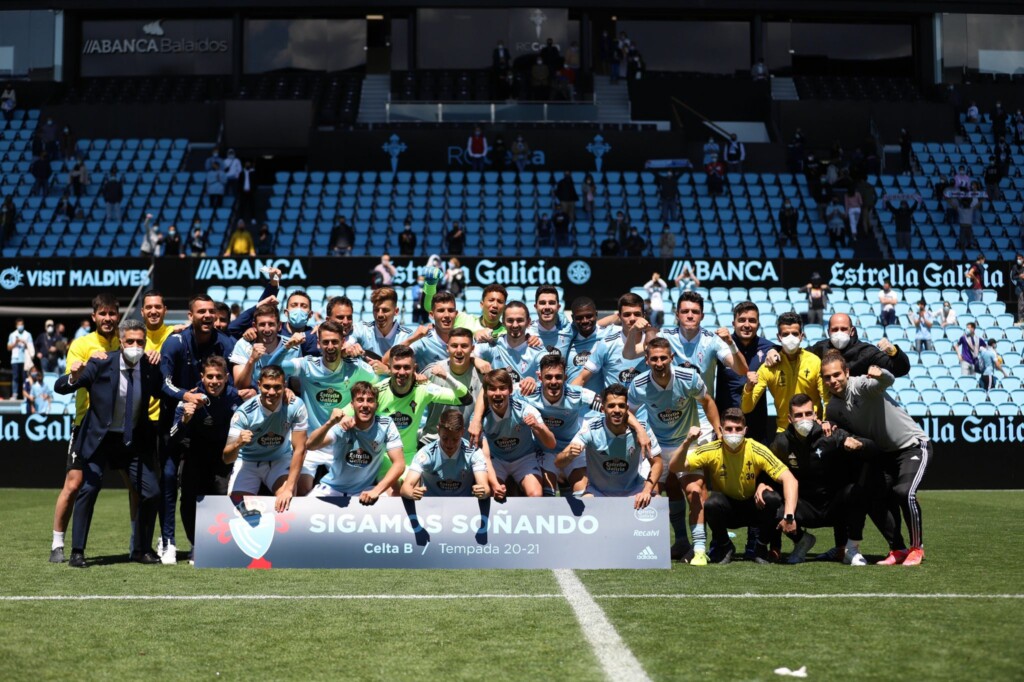 Celta B will be in Extremadura in a historic play-off for promotion to the Second Division. With quality, dedication and patience, they defeated a tough rival, Cultural Leonesa, who also sought victory from the start; 2-1 with a double from Manu Justo. The B team, with one game to go, seals a magnificent season in the best possible way, with a victory, good play and in front of 2,500 Celtistas, who were all in support of Onésimo's team. The dream is still alive.
The first half had a great rhythm, with both teams sharing the goal without complexes, that of scoring. The B team applied patience and the Cultural applied vertigo in the undisguised search for victory. A lot of pressure, concentration and attention in the assists, a lot of arrivals to the front of the area, in both fields, but few shots. The defenses prevailed… until Sergio Carreira's talent appeared. Tight, with no options, he took a magnificent dribble and a cross that led to a penalty -a somewhat strange handball- that Manu Justo scored. It was the 40th minute and Celta B took a step forward in a match of tension, dispute and great waste of energy.
The arrival of the break tempered the spirits ignited by a couple of plays in the sky blue area that unsettled the visitors, hurt after the second team's goal in a very competitive first half.
Celta B did not switch off. After a minute of play, the ball was stolen up top and the leather reached Manu Justo, who shot from the front to beat the goalkeeper from Leon. Calm came after Celta striker's goal. The match slowed down as the local team wished, leaning back on their advantage, comfortable with long possessions and agile on the counterattack.
The Cultural didn't worry, the reserve team arrived more and better, who played with criteria and patience to attack and to protect themselves. The match was going smoothly towards the end, with the subsidiary dominating and without the slightest trouble in Sequeira's area. But with three minutes to go, a clearance by Lucas bounced off Holsgrave and the referee pointed to a penalty to the disbelief of the home side. The unnecessary anguish lasted three minutes, which the referee prolonged.
TECHNICAL SHEET
2-Celta B: Sequeira, Sergio Carreira, Lucas Cunha, Carlos Domínguez, Pampín, Markel, Barri, Holsgrove, Solis, Kevin Soni and Manu Justo. Also played Iker Losada, Gabri Veiga, Lautaro, Raúl Blanco.
1-Cultural Leonesa: Zubiaurre, Abad, Rodas, Galas, Castañeda, Marcos, Arce, Rovirola, Luque, Álvaro Juan and Dioni. Also played Héctor, Pipo, Bravo, Percan, Suárez.
Goals: 1-0, min.40: Manu Justo, penalty kick; 2-0, min.46: Manu Justo; 2-1, min.89: Dioni, penalty kick.
Referee: Pérez Hernández, from the Madrid committee. Yellow cards for Lucas, Sequeira, Barri, Carlos Domínguez, Dioni, Luque, Rovirola, Montes.
Stadium: Abanca Balaídos, 2,500 spectators