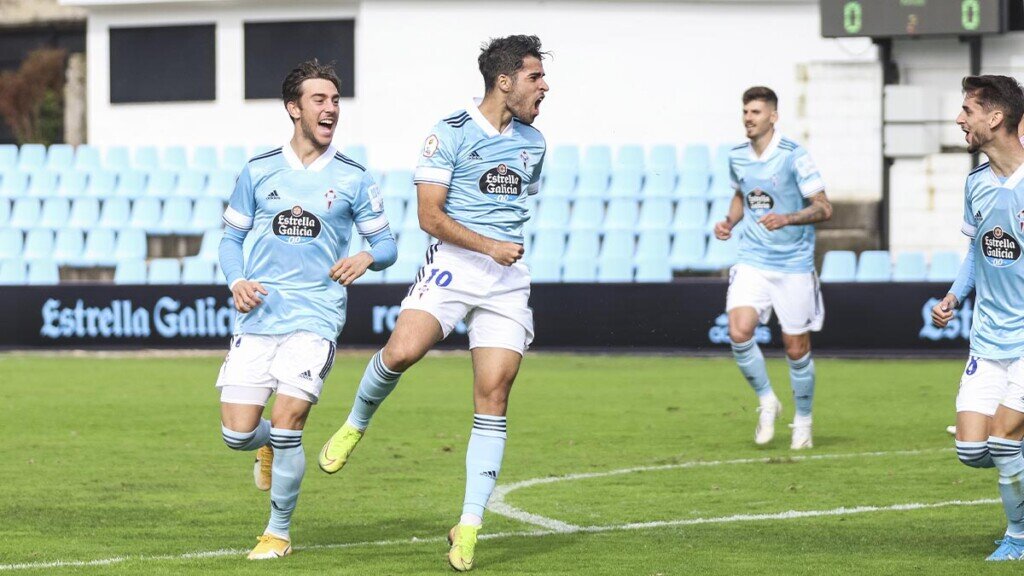 Imposing exhibition of Celta B, which with its resounding victory over Valladolid Promesas rises to second place in the table. The sky blue squad clearly outplayed its rival and left for the history a 0-5 that means its match with more goals as a visitor in Segunda B.
The first half, although both teams had chances, was clearly dominated by the sky-blue team. Onésimo's men took possession of the ball and played great soccer. As a result of this courageous, and eye-catching, approach, the first goal of the match came through Alberto Solís, who took advantage of a rebound from the local goalkeeper.
Already in the second half and after a start of local domination, Celta B was unleashed in attack and Hoolsgrave scored the second after a great play by Soni. The sky blue striker himself scored the third with a great shot from the front.
Hoolsgrave and Soni, both with braces, closed a magnificent victory that allows Onésimo's team to move up to second place and dream in the two remaining rounds of this promotion phase to the Second Division. Extraordinary triumph that also turns the subsidiary into the best visitor of the category.
TECHNICAL DATA
RC Celta B: Álvaro, Carreira, Cunha, Carlos Domínguez, Pampín, Barri, Markel, Holsgrove, Solís, Soni, Manu Justo. Also played: Iker Losada, Gabri,. Lautraro and Raúl Blanco
Goals; 0-1 Solis; 0-2: Holsgrave; 0-3: Soni; 0-4: Soni; 0-5: Holsgrave